First, let me say that visiting New York City when you are 6 going on 7 months pregnant may not be the wisest decision to make. Going in the middle of July while the city is experiencing the hottest weather of the year is doubly an unwise decision. As hot as it was above ground, descending the steps to the subway system was like taking a stairway to Hades. I have never sweat so much in my life. I did not perspire – I sweat. I later read in one of my magazines that you sweat more when you are pregnant. Go figure.
When we first arrived in New York, our cabbie drove us from JFK to our hotel. It was about 8 am and the traffic was incredible. I have never seen such skillful driving in my entire life. Even though traffic stopped numerous times, our cab never stopped. After reaching the hotel and obtaining a map, we headed out on foot to explore the city. Tracy and Paul were the map keepers, because I couldn't read a map if my life depended on it. We began our exploration by trying to find St. Patrick's Catherdral. On the map, it apparently looked like a hop and a skip from the hotel. In reality, it was what seemed to me, an endless number of blocks away. After walking about 10 large blocks or so in the now 90 degree heat, I had had enough. I was getting more and more irritable and ready to just sit right down on some of the most unclean sidewalks I have ever seen in my life. Just as I was about to throw a tantrum, I noticed the sign for the Museum of Modern Art, so I made an executive decision that we were going there. I love art museums, but I think this time it was more about the air conditioning and benches that would await me inside. Paul and Obea opted to continue the trek to St. Patrick's while we visited the museum. The art inside was maginificent. We saw works by Picasso, Monet, Pollock, Rothko, etc, etc. But ahhh, the air conditioning – I cannot praise it enough. Before concluding our museum tour, we ventured outside into the sculpture garden where there stood a statue of a pregnant goat. I love goats so I had to have my picture taken with this one. We show a striking resemblance I think.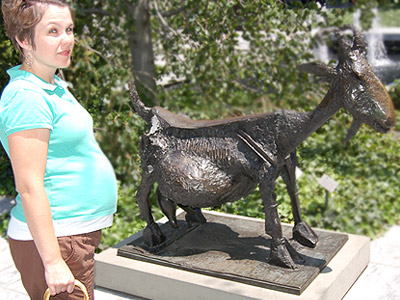 We did other things that day like visit Rockefeller Center and buy subway passes. We finally went back to the hotel and took a much needed nap before going to dinner at this small Italian restaurant called Serafina's. They had some of the best pasta I have ever eaten in my entire life. The restaurant was noisy and the tables were on top of each other. I imagine this is what it must be like in Italy. After dinner, we hiked several blocks to get to Serendipity. This is the little restaurant that was featured in the movie Serendipity. After waiting for one hour and a half, we were seated at a table upstairs where we ordered unreasonably priced desserts. I had their signature Frozen Hot Chocolate. It comes with two straws for sharing. I drank out of both straws at once so I could share mine with Davis. The desserts made us perfectly giddy.
Day 2 is sort of a blur, because we began using our subway passes and I think I just became delirious as we descended the stairs to the pit, took trains across town, and climbed steps into places that were just HOT, HOT, HOT. I think we may have visited Time Square, Chinatown, Little Italy, and SoHo very briefly. I did find the markets in Chinatown captivating and repulsive at the same time. The fresh fish, shrimp and other things that were unidentifiable were fascinating, but the smell eventually became too much to bare. We ate lunch at this little Chinese restaurant located under the sidewalk – Wo Hop. They had great egg rolls. That evening, we ventured into Greenwich Village where Orpheum Theater is located. I knew this burrough of New York was going to be different. It was what I would call a town that caters to the hippie population. In all of New York, I never smelled the scent of body odor as acutely as I did in this neighborhood. Right beside the theater was a shop dedicated to selling drug paraphenalia. There was nothing else in the shop – just utensils used for smoking various forms of illegal substances. At Orpheum Theater we saw Stomp. It's this show where the actors don't speak, they simply tell a story through sounds made with sweeping brooms, clapping, finger snapping, and banging on various found objects. The show was very entertaining and I am not really sure how, I am guessing it was all the rhythm and the cool air, I began to get very sleepy and nod off. I told the others about this over dinner, and they could not imagine how anyone could sleep through a show like that. I guess pregnancy has its advantages. We ate dinner, though it was so bad, I am not even going to go into my rant about that. All I will say is that if you ever are in Greenwich Village, do NOT eat at Poetessa.
That night, it finally rained, and the temperature dropped, thank heavens. The next day Tracy and I visited the Natural History Museum and ate Indian food at Diwan with one of Tracy's clients who lives in the area. The food there was superb. Spicy and full of all the smells and flavors of a traditional Indian feast. I will certainly be craving that same food in the days to come. That night we ate a high class all you can eat Brazillian Steak House called Churrascaria Platforma. It was featured on Food Network as one of the best places to eat meat. The way it worked was they give you a coaster which is green on one side and red on the other. As long as the coaster is flipped to red, the infinite meat supply just bypasses you and goes onto the next table. But, the instant you turn it to green, the meat feast begins. There had to be dozens of waiters meandering through the dining room with swords full of meat. One guy would come over and offer top sirloin. He would carve as much as you wanted and you would retrieve it from the sword with your own dainty silver set of tongs. Minutes later another waiter would appear with roast chicken. Then, prime rib, sausage, and even chicken hearts. When Tracy was ready for his meat course, he dramatically flipped his coaster to green and yelled, "I summon the meat!" I think Tracy ate about 6 chicken hearts. We overheard the table beside us talking about the wonderfulness of the lamb, but we had not been offered any lamb. We questioned our head waiter and he said, "Of course we have lamb!" He then summoned another waiter and demanded, "Get them some lamb!" In seconds, voila! lamb appeared. There were other side dishes brought to the table like mashed potatoes, crispy green beans, onion rings, fried bananas, and rice. But, that's not all, there was an entire bar located in the center of the restaurant that offered items such as calamari salad, sushi, various pasta salads, steamed shrimp, wonderful green rice, and the most amazing couscous I have ever eaten. I am going to email the restaurant, inform them that I am pregnant and that I must have the recipe for the couscous, because I NEED IT!!!! Let me just say that this restaurant is not for the faint of heart. The food and the stab to the wallet are overwhelming yet memorable. We went back to the hotel in a stupor.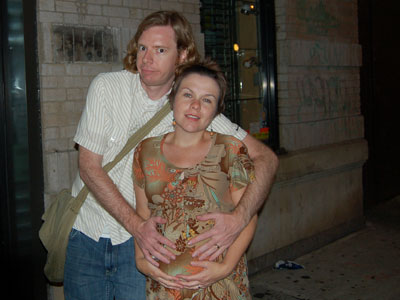 Last day in New York and there was still so much to see. We finally decided we would take the ferry to the Statue of Liberty and to Ellis Island. This was actually one of my favorite sights. I inadvertently wore a green dress almost the same shade as the one donned by Lady Liberty herself. Along with Tracy's recently purchased Lady Liberty crown, I was a dead ringer for her double. Ellis Island was really interesting. I am reading a book about a family who immigrates to the United States from Italy in the 1940's, so going to Ellis Island brought my book to life. Before we went, I read in some pamphlets to allot about 4 hours to visit the 2 attractions. I thought that was absurd, but 4 hours later we were just getting in line to board the boat and head back to the mainland.
Finally, it was time to return to JFK and head for home. Usually when we go on vacation, I mourn a little on the last day. I long to stay in a world with no responsibilities, no time schedules, no cooking, cleaning, etc. But, I welcomed the end of this trip. I could not wait to board the plane that would bring me back to my third floor home. We ended up getting home at around 6AM because our flight was delayed and we actually landed in Charlotte at 1AM then had to drive the 4 hours from Charlotte to Myrtle Beach. When we turned into Azalea Lakes, I think Davis lept in my womb. I told Tracy that Davis didn't love New York City. Maybe when he's older and can walk on his own he'll be able to appreciate it more.