It's official – the baby has been identified.
A friend had told me a few weeks ago that just before going in for the ultrasound, I should drink orange juice. It supposedly would make the baby very active. I figured it was another one of those old wives' tales – myths. But, hey, I'm game for most anything. So, on the way to the dr.'s office, I sipped some Tropicana. The baby started moving in the waiting room. I thought, oh no, the baby is going to tumble around, then as we are having the ultrasound he or she will be fast asleep, fetal position, legs closed.
Not too much time passed before they called us back. I did the routine – weigh and pee in a cup. I gained another 3 pounds by the way (10 pounds total). We were guided into the ultrasound room where we waited anxiously and contemplated the idea of twins. I think everyone thinks they are having twins at some point in the pregnancy. Dr. Bindner came in in a matter of minutes. After having a reassuring conversation about my spastic nature and my racing/palpitating heart, we were ready to begin.
She squirted the blue ultrasound goo on my belly and began to roll the imaging instrument across me. Immediately, an picture appeared…the baby's butt, with legs spread wide open. Dr. Bindner asked, "Would ya'll like to know the sex of the baby?" "Yes," we replied excitedly. She kept moving the ultrasound around without saying a word. So, I said, "Can you tell what the sex of the baby is?" She said yes. Then she kept moving it around some more without a word. I think she was enjoying keeping us in suspense. Finally, I said, "Well, what is it?" "It's a boy!!!!" I still wasn't completely certain that she was certain of the sex, so I questioned, "Well, are you like 95% sure it's a boy?" "Oh, no, I am 100% sure it's a boy!" she replied with much certainty. This child was proudly displaying his package. All I could think about at that point was how excited Tracy's dad and my dad were going to be. They were convinced the entire time that it was going to be a boy. Then the doctor showed us all the organs – we could actually see the chambers of the heart pumping blood. Before the ultrasound was over we were able to see an amazing profile of the baby with him reaching up his hand to touch his face – maybe he was saying hello to everyone. She could also see him hiccup.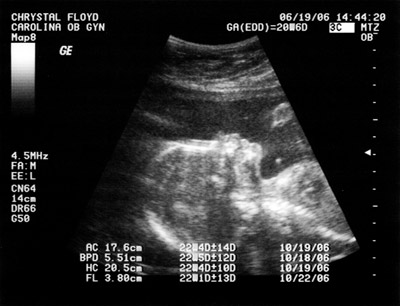 The ultrasound was the most amazing thing I have ever experienced. Tracy said it was a good thing we didn't have one of those machines at home, we'd never get anything done. Dr. Bindner also said that everything was completely normal and progressing as it should. After I heard "boy" and "normal", I forgot to ask any other questions about the size of the baby or if my due date was still accurate. This experience truly made pregnancy real, although I still can't even begin to wrap my brain around the whole idea that Tracy and I created this little person that is growing and learning and being shaped into a person inside me.
Tracy asked the other night if I thought baby's could communicate with God when they are inside the womb. I know they have a spirit at this point. I bet little Davis is having the most profound conversations with his maker. Wish we could eavesdrop.