Michelle and I saw Tim Burton's recent remake of Charlie and the Chocolate Factory when it came out in theaters and fell in love with it. Most of our friends never got around to seeing it, so when it came out on DVD we decided that it would be fun to have everyone over to eat desserts and watch the movie together. Months passed and we never got around to actually doing it… then we found out we were pregnant and the wheels started turning. We hatched the perfect way to let everyone in on our little secret…
Welcome to the Willie Wonka PaRtY!!
I had this idea. That I could dress up as Mr. Wonka himself, purple jacket, paisely shirt, even the top hat, and you know, greet everyone at the door, welcome them to my factory, etc. I mean, that would fit our theme, right? Unfortunately a trip to the local costume shop nearly ended the dream — it was going to set me back $150 to rent the costume (and it was the old Gene Wilder version). So, I headed over to the local thrift store and started digging around. $3.40 later I walked out with a purple-paisley women's blouse and a long purple suit jacket. After some slight modifications (I had to cut the sleeves off the blouse and sew them into the jacket arms to make them long enough) I had myself a fairly decent Wonka-esque costume. The party was the next day.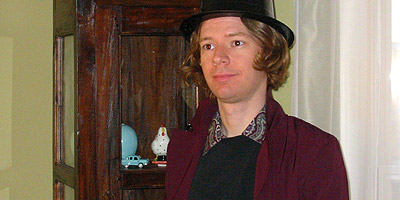 Everyone piled into our condo and we all had a large time eating chocolate cheese cakes, chocolate pecan pies, chocolate fondue, and making smores over invisible sterno flames. Of course, when anyone new arrived I jumped out yelling "Welcome to the Willie Wonka Party!" Wonderfully scaring most of them. Especially Richard… he hates clowns anyway, and we all thought he was going to claw his way back through our front door trying to get away from me. Great fun. So we ate ourselves silly then watched the movie. As everyone was getting up to go home I pulled out a handful of oversized chocolate candy bars. "There is one more thing!" I said…
You got the Golden Ticket!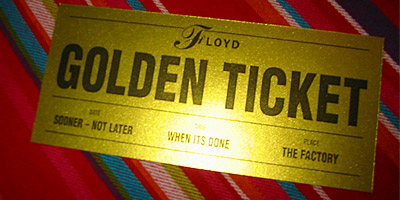 Nobody had a clue. They thought this was just one more silly thing to go along with the evening. "There's a golden ticket inside one of these," I said, as I handed everyone a candy bar. They all laughed and thought it was a fun unexpected treat. Having just seen the movie, they all got to feel like potential Charlie Buckets.
Rachel got the loaded candy bar and we made her read it out loud for all to hear…